Biography of Ian Hadley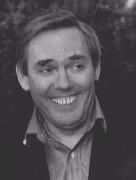 Biography:
I have been a member of Mensa since 1969. Since that time I have lived and been associated with Mensa in Glasgow in Scotland, Sydney in New South Wales and Melbourne in Victoria in Australia, Chicago in Illinois in USA, Dublin in the Republic of Ireland, Paris in France, and Oxford in England. My professional career has taken as many turns as my living location evolving through many aspects of high-tech and culminating in being President of an International publishing company specialising in interactive multi-media and Computer and Video games. I retired from this role early in 1998 only to take up a Pro-tem role as C.E.O. of British Mensa in Wolverhampton pending the resolution of some administrative problems there.
My association with Mensa has led me to be part of the Irish Mensa Committee as well as being LocSec for eastern region in the Republic. Those who attended the Oxford day trip from the Golden anniversary may remember that I was one of the principal organisers of that day event.