---
Seven new children's books will make summer fun
May 19, 1996
Elisabeth Sherwin -- gizmo@ dcn.davis.ca.us
---
Here is a sampling of new children's books to look for this summer when your kids are at loose ends.
The first book is written both in Spanish and English. It is "A Taste of the Mexican Market" or "El Gusto del Mercado Mexicano" (Charlesbridge Publishing, $6.95, paperback) by Nancy Maria Grande Tabor of Sonoma.
Tabor takes readers of all ages on a trip to a colorful Mexican market to learn the names of fruits and vegetables in two languages and to play a counting game. Perfect for parents who complain there are no good bilingual books.
Next is a brilliant book for budding young scientists and environmentalists. It's "Chattanooga Sludge" by Molly Bang, who also illustrated the book (Harcourt Brace, $16). "Sludge" describes the sorry condition of Chattanooga Creek, a polluted swamp no longer able to offer animals, fish or insects a home or to provide clean water for humans. A man comes along who tries to clean up the waterway through the use of a recycling or "living machine." Bang does an excellent job of conveying very technical information to young readers (recommended for ages 8 to 12) but if your youngster doesn't have an affinity for science to begin with "Chattanooga Sludge" might be too difficult.
"Grandmother and the Runaway Shadow" (Harcourt Brace, $15) by Liz Rosenberg, illustrated by Beth Peck, is one of those dreamy oversize picture books that kids love to read. This is recommended for children age 5 to 8. The story follows the adventures of a young woman who comes to America from Eastern Europe on a long journey all by herself, accompanied only by her shadow. Author Rosenberg and illustrator Peck include a full-page note to readers describing their own families' journey to America early in the century. Lovely. Peck also drew the illustrations for Truman Capote's "A Christmas Memory," a beautiful book.
"I Want My Dinner" written and illustrated by Tony Ross (Harcourt Brace. $12) is for children age 2 to 4. This picture book features an ill-mannered little girl we've met before in a fabulous earlier Ross book, "I Want a Cat." This time around, she's learning about "please" and "thank you." Ross' colorful, whimsical illustrations are wonderful.
The best book of the lot, however, is "Purr...Children's Book Illustrators Brag About Their Cats." This book, edited by Michael J. Rosen (Harcourt Brace, $18), scores top points in three critical areas: illustrations, humor and subject matter.
In "Purr..." every page features the work of a different well-known cat illustrator from Tony Ross to George Booth, Janell Cannon to Roz Chast. The quality of illustration is not only high but extremely varied. Second, the subject is cats, which puts "Purr..." in the highest honors category immediately. Third, since the subject is cats, it follows that this book is going to be very funny. And it is. Don't make the mistake of buying it for your kids because once you begin reading "Purr..." you will never be able to give it up. And you can feel good about shelling out $18 for the book because royalties, contributors' fees and a portion of the publisher's profits are donated to The Company of Animals Fund, which provides grants for veterinary services, homes for stray animals and aid for the pets of the elderly and ill.
"The Old Woman Who Named Things" (Harcourt Brace, $15) by Cynthia Rylant, illustrated by Kathryn Brown, takes a sad subject and makes it work. The woman in the story is so old that she has out-lived all her friends. Therefore she names things that won't outlive her, like her bed ("Roxanne") and her house ("Franklin"). When a lost brown puppy appears at her garden gate, she can't take the chance of naming him and possibly out-living him. But the old lady (who always wears cowboy boots) soon realizes that it's better to take a chance on love than risk never having any. She names the puppy Lucky and they live happily ever after.
"Derek's Dog Days" by Nancy Lee Charlton, illustrated by Chris L. Demarest (Harcourt Brace, $14, for ages 4 to 8), is about a boy who wants to be a dog. He buries his brother's toys in the back yard, chases cats, shakes himself dry after his bath. But then he begins school. He learns to count to 100, print the work "dog," and paint giant puppy pictures. Still, once in a while, when no one is looking, Derek curls his lip and growls at the cat. Cute.
---
[Author Menu] [Date Menu] [Genre Menu] [Printed Matter Home]
---

The Davis Virtual Market ||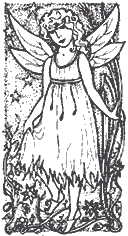 Alphabet Moon Toys and Treasures