---
Sacramento woman writes juveniles and mysteries
October 1, 1995
Elisabeth Sherwin -- gizmo@ dcn.davis.ca.us
---
Sacramento resident Jacqueline Turner Banks is the author of three books for young adults, the latest of which is called "Egg-Drop Blues" (Houghton Mifflin, 1995, $13.95). All three of her books are about a group of young friends including twin boys, sixth-graders Judge and Jury, in the fictional town of Plank, Ky.
In "Egg-Drop Blues," Judge has just been told that he is dyslexic. He has to come to grips with this news while at the same time trying boost his science grade by entering a local egg-drop competition. ( A similar contest is held at UC Davis every spring. Students drop eggs from the top of a tall building in the hopes that their homemade packaging will prevent the eggs from breaking. Intact eggs win.) Judge hopes his sometimes-difficult twin brother will help with the project. The story is simple and sweet while also managing to address real problems.
Banks writes as if she knows a thing or two about kids. In fact, she does.
"I have a daughter, Regina, who is 15, and twin boys, Geoffrey and Jeremy, who are 13. My kids have asked me to insist in all interviews that, though they may share some similarities with Angela and Judge and Jury, the characters in my juvenile novels, the similarities are purely coincidental." So noted for the record.
I met Banks at the first meeting of the Sacramento chapter of Sisters in Crime, an organization of mystery writers (open to both men and women). She is the vice president of the new chapter.
So it comes as no surprise to find out that Banks also is a mystery writer. Additionally, she is an agent whose business, Banks Communications Literary Agency, has helped other mystery authors find publishers. She's hoping she'll be as lucky with her own adult work, including a novel called "A Deadly Reunion." She describes it as a mystery that takes place in Texas when a black family tries to crash a reunion of the white branch of the same family.
"I'm a graduate of Ferris State University (Big Rapids, Mich.) and the University of Michigan in Ann Arbor. I was granted a Michigan Secondary Teaching certificate and taught an adult education class while I was a adult probation officer for felon offenders. I met my husband and moved to Los Angeles where we lived for four years and where our three children were born. After Los Angeles, we moved with another job to Foster City. We lived there for three years. I was able to get back into my writing in the Bay Area. While there, I sold my first article to a national magazine, Essence, and I wrote an award-winning video script, 'Black People Get AIDS, Too.' "
Six years ago, Banks and her family moved to Sacramento when her husband, Reginald, took a job with the state. Finally, a chronic back condition forced Banks to stay at home and she began writing full time. Three years ago, upon the retirement of her own agent, Banks went solo. Among her clients is Terris Grimes, another Sacramento writer, for whom she negotiated a three-contract mystery deal with Dutton. Grimes' first novel, "Somebody Else's Child, " is due out in March.
"I can't support my family yet on my earnings as a writer/agent, but I think that time is just around the corner," said Banks. " I work on my novels after midnight when the house is still, but the agency has regular hours. I don't seem to need a lot of sleep, but my children will tell you I haven't seen the end of a prime time show in years. I fall asleep watching TV unless I have something to read. Reading is my fondest past time. I have nightmares about being in a roomful of wonderful books without my glasses. It wouldn't stop me from reading, but it would certainly slow me down."
Anyone looking for an agent who can place juvenile literature and adult fiction might be interesting in contacting Banks. Send 25 pages, a self-addressed, stamped envelope and an outline or synopsis to P.O. Box 293442, Sacramento 95829.
Also, mystery writers interested in attending the next Sisters in Crime meeting in Sacramento should mark their calendars: It will be Saturday, Oct. 28, 1 p.m., at the Round Table Pizza at 1307 Florin Road. From Interstate 5, take the Florin Road exit east and it's on your left.
---
[Author Menu] [Date Menu] [Genre Menu] [Printed Matter Home]
---

The Davis Virtual Market ||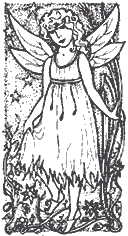 Alphabet Moon Toys and Treasures