---
Mystery fans will enjoy this new Sacramento sleuth
Mar. 10, 1995
Elisabeth Sherwin -- gizmo@ dcn.davis.ca.us
---
Sacramento resident Terris McMahan Grimes has just published her first mystery novel, "Somebody Else's Child" (Onyx, $4.99), and her second in this fun new series is due out in January.
Grimes is the president of the newly formed Sacramento chapter of Sisters in Crime. Both Grimes and the vice president (Jackie Turner) of SinC Sacramento are published authors - a good sign for a group that aims to promote women mystery writers. Grimes has a Web page that can be accessed at http://www.vme.net/dvm/sister-sleuth/.
"Somebody Else's Child" is blurbed as being refreshingly different and original and it is both of those things - the world of mystery fiction has been waiting for Theresa Galloway (her nickname is T), a size 16 state worker with a sense of humor, a feisty mom, and a strong desire to create order out of chaos. T's character has a lot in common with Grimes, her creator.
"The novel deals with cultural clashes between T's middle-class urban background and her mother's rural, agrarian background; T's proper upbringing versus street culture; and conflicting cultural values about family and career that all working women face," says Grimes.
"I chose to write a mystery because I love the genre and my favorite writers at the time weren't writing them fast enough. I started out reading cozies and moved on to the hard-boiled guys and eventually settled on the smart women. Theresa Galloway is a smart and sassy women but unlike many of the smart women characters she is not a loner. She's very much connected with a husband, children, an aging parent and a demanding job. She's not fighting the bottle, fending off commitments, or so fiercely independent that she needs no one. With all her conflicting commitments, she's juggling eggs...and she's not real good at it."
The novel is about a black working woman, T, and her family, including her mother who doesn't live with the Galloways but lives nearby in Oak Park. The mother is something of a busybody who insists that T get involved when a neighbor is killed in a drive-by shooting and the dead woman's grandchild goes missing.
"My mother and I have a very close relationship," says Grimes. "Mother in the novel is based on my own mother to a certain extent. Both have similar backgrounds and both are prone to the same outrageous statements. I didn't really settle on my protagonists, mother and Theresa, until I was going through some therapy and started talking about some of the conflicts I was having with my mother. After a while I realized that I had some good material, so I stopped therapy and started writing.
"Although this is my first publication I've always thought of myself as a writer. I simply did a very long apprenticeship. My mother played a big role in my becoming a writer. She's always loved to read and I grew up finding joy in the printed page. My mother also had a peculiar way of purchasing books -- she bought used books by the box. It didn't matter what the subject matter was, if it was a book she bought it. I was better read than the average student by the time I reached high school," Grimes added.
"Neither of my parents were able to go beyond the third grade in school in Arkansas where they grew up. My parents moved to California when I was 4 years old expressly for the purpose of taking advantage of the free education. Besides that I, their oldest child, seemed a bit delicate to pick cotton. They were afraid that I would starve to death if I stayed in Arkansas."
The move to California paid off. Grimes went to high school in Oakland and graduated from California State University, Chico with a bachelor's degree in English. She worked as a feature writer for the Sacramento Observer, an African-American weekly, for the first year after graduating from Chico and then went to work for the state.
"I've worked for the state of California for approximately 20 years," she said. The past 14 years have been spent at the state Department of Water Resources. Grimes is married and has two children, Jared, who attends Elk Grove Elementary Montessori and Mariam who is a freshman at Spelman College in Atlanta.
Grimes says early response to "Somebody Else's Child" has been great. "I've received e-mail from all over the country praising it -- working women really relate," she said. The second novel in the Theresa Galloway series, "Blood Will Tell," is due out in January.
---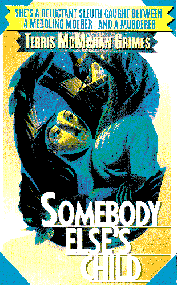 Introducing:
Somebody Else's Child
A Theresa Galloway Mystery
by:
Onyx * ISBN 0-451-18672-9 *
Available Now
A Synopsis of Somebody Else's Child

---
[Author Menu] [Date Menu] [Genre Menu] [Printed Matter Home]
---

The Davis Virtual Market