Support friends in Ukraine with food boxes...or stuffed animals
August 21, 2022
Elisabeth Sherwin -- ensherwin@gmail dot com
Columnist

---
Several years ago, when I lived in Davis, CA, I was a member of the Davis-Uman Sister City Project. Uman is a city in Ukraine, south of Kyiv, that is in some respects similar to Davis -- both towns had agriculture universities and beautiful parks and were about the same size, roughly 60,000.

Through my participation with this group, I traveled to Ukraine several times in the early 2000s and stayed with our interpreter and visited her family. On another occasion, 10 women from Uman came to Davis on a program paid for by the U.S. State Department. The idea was that they would study democracy and run for a local office when they got home. I'm not sure any of them did. But I got to know some lovely people in Ukraine including the Stas, the nephew of our translator.

Stas Potorocha and his wife, Natasha, and their university age son, Mitya, live in Kyiv on the top floor of a highrise (even though the apartment number is 213). Stas came to our home in Allenspark, Colo., in the summer of 2016 to help us build a bunkhouse. He loved Colorado and took hundreds of photos including at the rodeo in Estes Park.

From my visits to Ukraine and discussions with Stas, I knew there was no love lost between Ukraine and Russia. Even 20 years ago there were signs posted in Ukrainian towns saying "We speak Ukrainian only, not Russian."

So when Russia invaded Ukraine in February, my husband and I were stricken and spent those first few weeks watching the news closely. I was aware that there is a shipping company that specializes in transport to Eastern Europe including Ukraine. When I phoned Meest (1-800-288-9949) in those early days of the war, they weren't sure how or if packages would get through. But since then we have been sending about one box a month. None have been lost. All have been delivered directly to the door of my friend Stas' apartment.

I can only imagine the thousands of boxes of food and goods that have been sent to Ukraine by American and European friends. The military is siphoning off many items commonly found in stores. So this is what we have sent: rice, beans, canned meats, summer and dried sausages, trail mix, nuts, coffee (instant and ground), tea, chocolate of all kinds, nutella, peanut butter, dried vegetables, dried cheese, dried butter, dried eggs, bags of candy, aspirin, antiseptic creams, socks, hand warmers and battery packs with solar panels so people can charge their phones when the electricity goes out. We also sent solar flashlights, tea candles, sweat shirts, summer clothes, and winter clothes. Also a 3x t-shirt that said: "ALLENSPARK."

Then we found out that our friends live next door to a special school for deaf children and we started sending small stuffed animals plus crayons, coloring books and school supplies. Great success!

Both Stas and Natasha are English teachers who continue to work with their students in person and online. Mitya plays the guitar so we sent him some music books, an important diversion.

Food is expensive and sometimes the shops don't have much to offer, and certainly not much variety.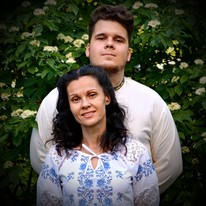 Mitya said: "(You sent) a lot of food which was absolutely delicious and interesting because there were some things you wouldn't see in our stores."

All Ukrainians who have access to even the smallest plot of land grow vegetables to can and eat through the winter. And now Natasha has dried vegetables for cooking, which she uses daily.

"We use and share with others everything you send," she said.

How does Mitya feel about his future?

"For the first time in many years I don't know what my future will be like," he wrote to us. "Sometimes it is hard to plan your next day. But I am 100 percent sure that the victory will be ours, thus, my future shall be bright."

Those who are interested in sending packages to this extended family and community can do so by contacting Meest online at www.meest.com or phoning 1-800-288-9949. It is a little cumbersome as Meest has to mail forms to you and you have to fill out the forms and take your boxes to Fedex for shipping. But do it once and the next time it will be simple.

Mail boxes to:
Stas Potorocha
Entuziastiv St.
Building 25/1
Apt. 213
Kyiv
Ukraine 02154
Cell phone: 095-254-0809

-- Reach Elisabeth Sherwin at ensherwin@gmail.com

For More Information, Visit These Links: