---
Fowler celebrates pleasures of both reading, writing
February 15, 1998
Elisabeth Sherwin -- gizmo@ dcn.davis.ca.us
---
Karen Joy Fowler's latest published work is "Black Glass" (Holt, $23, 1998), a collection of 15 short stories.
"These stories were written over a number of years," she said. "I sent my editor every story I'd ever written and she culled them. I think I'm hilarious as a writer, not difficult and brooding as critics say."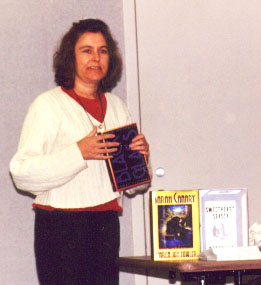 She is the author of two novels, "The Sweetheart Season," the story of an-all female baseball team formed in the 1940s in Magrit, Minn., and "Sarah Canary," a book set in the 19th century Pacific Northwest that combined elements of history and the fantastical. She also is the author of a collection of science fiction short stories called "Artificial Things."
She spoke at the annual meeting of the Friends of the Davis Library recently.
"Libraries mean a great deal to me and to most writers," she said. Libraries represent a utopian ideal.
"The idea that you can just walk in here and take a book out or leave a post card and be notified when your book arrives, any book in the world, is wonderful," she said. Fowler said she writes in the fall and winter and teaches in the spring and summer.
"I have lived a distressingly ordinary life," she said. "I have so few adventures that it's shocking.''
Fowler went to graduate school at UC Davis where she earned a master's degree in political science and met her future husband, Hugh.
"I got pregnant my last year in graduate school and finished my degree," she said. "Hugh went to work and I had another child. I began to feel that I should have a life when the children left."
She didn't wait until the children left, but she did wait until her 30th birthday. "At the time, turning 30 seemed pretty tragic so I decided to take the kids - Shannon and Ryan -- and drive to UC Berkeley to pick up my (undergraduate) diploma."
At Berkeley, Fowler and her children found a huge line in Sproul Hall. It took hours to get to the registrar's window. As the line slowly moved forward, Fowler told her children a story.
"My idea was to pre-empt any bad behavior by telling these cautionary tales about two children named Cheryl and Ralph. The people in line were enormously impressed and supportive with my story and I felt strangely entitled to this. I got a round of applause when I reached the window. One woman said I should be a writer."
Regrettably, said Fowler, her decision to become a writer "was not as easy as I'd hoped."
Fowler at first negotiated a one-year contract with her husband that gave her time off to write. At the end of the year she was not close to being published so she went back to her husband and re-negotiated a five-year contract.
"I did manage to come in under the five-year mark by several months and the rest is history," she said. Now she can legitimately describe herself as a writer, although she prefers doing the research for her books.
"The most valuable thing I learned in college was finding my way around the library," she said. "Research is the fun part for me."
She also is a reader. "A lot of writers are very critical of other people's books, which unsettles me," she said. "I write because I love to read and my usual reaction to reading a book is to think it's good."
Fowler described an experience that took place in her childhood that went a long way toward making her a reader and then a writer.
"When I was 11 we moved from Indiana to California," she said. The move took place at the beginning of a long summer vacation. Fowler had no friends in California and knew no one. "But my parents signed me up for a reading program at the library and it meant the world to me," she said. That was the summer she read "The Hobbit." The reading program turned what could have been a lonely unhappy time into a summer Fowler says she loves to remember.
Fowler said her 1991 novel, "Sarah Canary," sold well. Her next novel, "The Sweetheart Season," published five years later, sold poorly.
"I'm told that I would have done well (in terms of sales) in the days when libraries had budgets (and bought more books)," she said. Now libraries have shrinking budgets and big-box retailers are changing the face of the book world by pushing best-sellers and easy marketing choices.
"I look to the demise of independent book stores as the reason my books are not selling," she said. But she is continuing to write, nonetheless, and has done a great deal of research in preparation for her third novel, which will be about Mary Ellen "Mammy" Pleasant, a controversial businesswoman who lived in San Francisco in the 19th century. Pleasant lived the first part of her life in San Francisco as a white woman, her last 50 years as a black woman.
"I'm also trying to write faster," said Fowler. "There was a long lag time between my two books and people forgot about me."
---
To order any of these books from an independent bookstore,
Bogey's Books [ Click Here ]

To Order "Black Glass" from Amazon [ Click Here ]
To Order "Sarah Canary" (third edition paperback) from Amazon [ Click Here ]
To Order "Sarah Canary" (mass market paperback) from Amazon [ Click Here ]
To Order "Sarah Canary" (reprint edition paperback) from Amazon [ Click Here ]
To Order "Sweatheart Season" (paperback) from Amazon [ Click Here ]
To Order "Sweatheart Season" (hardcover) from Amazon [ Click Here ]

---
[Author Menu] [Date Menu] [Genre Menu] [Printed Matter Home]
---