Why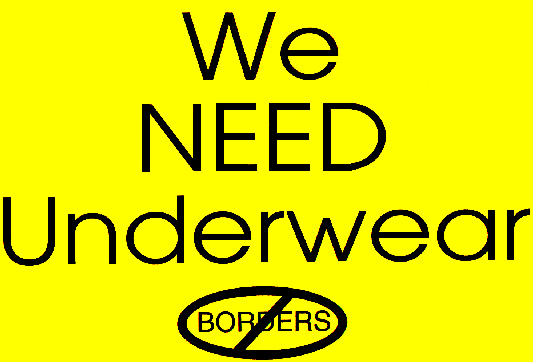 "We Need Underwear"? What's that got to do with keeping Borders Books out of Davis, CA?
Well, Davis (population 50,000 and home to the University of California, Davis) needs clothing stores. The City's own economic surveys show a strong need for stores that sell clothing.
So what are City of Davis and UC, Davis administrators doing? They are encouraging an out-of-town developer to bring in not a clothing store, but a Borders, a mega-size corporate book store, and build it right at the edge of our unique, 1950's style downtown. Our downtown has several long-standing, independent bookstores. And Borders, like other book mega-stores, is infamous for putting independent book stores out of business.
Such a huge book superstore would upset the delicate economic balance of our downtown. Access to the mall would create unsafe turns and traffic bottlenecks. It would draw away vital foot traffic and raise retail rents, thus killing off many other types of small businesses. It's a pattern that, sadly, is all too familiar these days.
But we don't think it has to be that way!
"We Need Underwear" has become a slogan for a growing number of people in Davis who want to take back control of our community, to fight off the incursion of huge warehouse corporate stores, and to protect locally owned businesses and the character of our quaint downtown.
This website has been created and maintained by the group Friends of Davis. Our mission statement is as follows: "The spirit of the Davis community is reflected in its small town atmosphere enhanced by locally operated, compatibly sized businesses. We, the Friends of Davis, wish to restore the power of our community to determine its character and destiny."
The purpose of this website is to keep you posted of new developments in the campaign of a small town trying to stand up to destructive powers that have little or no interest in cultural diversity. We are people who have had enough of powerful corporations, land developers, and arrogant politicians dictating the quality of life in our own community.
We care about our town and its future. We want to demonstrate to our children that they can grow up to have a voice in determining the quality of their community.
We also want to help other towns that are facing similar threats from corporate mega-stores. If you live in such a community or know of one, we want to hear from you. If your town has been damaged by superstores, tell us your story. If you know of a community that has fought off a large chain, let us know what strategies are most effective. We can work together.
If enough people speak out to educate others, write letters, monitor the actions of their city governments and resist shopping at mega-stores, we can slow down our drift into an era of cultural monotony.
Be sure to bookmark this website; new information is posted regularly.
Read on for articles, letters, updates and news about a small town fighting to do the right thing.
--
Mark
marknem@web1.sl.net
---
[ Homepage ]