Jinsong Market one of Beijing's most fascinating places
BEIJING - The most fascinating place to visit in this city of fascinating places is the ghost market, a place where you can buy real antique tomb figures for a song, haggle over the price of fake jade, and get your pocket picked all in the same morning.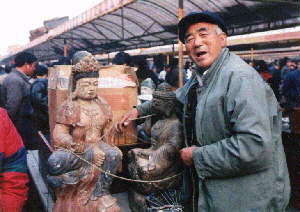 Located in the southeast corner of the city, this free open-air market, commonly called the Jinsong Market, does business on Saturday and Sunday mornings. It's not for the faint-hearted.
The market opens its gates at 5:30 a.m. when the mornings are cold, foggy and dark. Peasants haul in their treasures on bicycles, broken-down trucks and by foot. Antique dealers arrive early to get the best bargains - the real things, not the fakes. Dealers appear in the darkness with a flashlight in one hand, a magnifying glass in the other.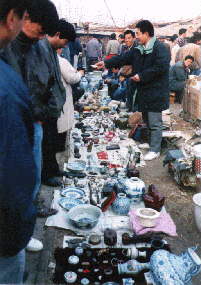 The peasants hunker down over their treasures spread out before them on a blanket, a jar of hot tea in one hand, a calculator in the other.
At this early hour, the buyers and sellers are all local. The foreigners come later in the mornings and tend to buy kitsch.
Some observers say sellers are knowingly passing off fakes, interspersing copies of vases, busts, wood, bronze and porcelain figurines with the real thing. Some sellers hire people to stand in front of their blanket showing interest in a piece in order to attract others.
But are there real antiques?
"We bought three Song Dynasty bowls, paper light and very beautiful, three Han Dynasty tomb figures and an exquisite little bronze bird from the Han Dynasty era, about 100 B.C., all for under $100 U.S. in one morning's foray," said Don Gibbs, head of the University of California Education Abroad Program in Beijing.
Building projects all over China, including roads, factories, and high-rise apartments, are yielding old treasures. And tombs are being robbed - the China Daily reported 1,700 tombs robbed in Honan Province alone in a two-month period earlier this year - and that included only those robberies known to authorities. With China now open to the outside world, with the Chinese themselves becoming prosperous, with a less restrictive government - anything goes at the market. No one really knows what can and cannot be sold.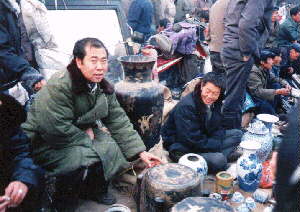 But let's say you're not on the market for antiques, real or fake. OK, how about a Flying Tiger leather jacket for $60? A porcelain chop or signature stamp at $5? A red lacquer plate, dirty and chipped but still beautiful, might go for $10. A painted wooden sculpture of the goddess Guanyin is $25. There also are tiny silk slippers, bronze dragons, blue and white fish plates, ginger jars, jade buddhas, porcelain teapots.
In another corner of the market, Chinese artworks, modern and traditional, are sold by the artists themselves. Prices range from cheap to reasonable. You're expected to bargain; never pay the first price quoted. But if you see something you really want, don't bargain too hard or long. Sometimes the sellers get impatient and after a certain point will refuse to sell. All foreigners are considered rich and no non-Chinese will ever pay the low, low prices offered to natives.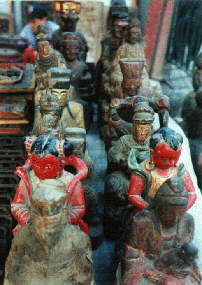 Two hours after dawn, the market is packed sardine-tight with people. Lose your balance and you risk falling into the merchandise displayed on the ground. Leave your credit cards at home for this is a cash-only business. And be warned: The dense crowd is a pick-pocket's heaven. Keep an eye on your wallet or money belt.
Even if you can't afford an $80 bargain for a tomb figure, this is still the place to buy something unusual, something unique. One seller returns to the market week after week offering a single ware - a tiny fly trapped in amber. But is it real amber or plastic? Is it one of a kind or is the inside of the seller's coat lined with them?
The only rule to follow in the market is this: If you like it, buy it. And keep this corollary in mind: The value of anything you buy will magically increase the farther away from China you travel. When you get home, it will be priceless.
Morning markets serve city's neighborhoods
BEIJING - The exciting ghost market, where people in this city go to buy antiques, is a weekend adventure, but each neighborhood also has a local market for daily shopping.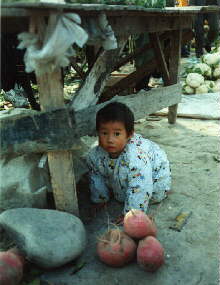 The morning market near Peking University in the northwest corner of the city is no less exciting for dealing in food rather than 2,000-year-old tomb figures.
The food on display in carts or piled up on the ground gives this market a medieval feeling. In October, this farmers' market was overflowing with green peppers, chiles, green tangerines, orange carrots, red-skinned turnips, apples, melons, cabbages, lettuce, purple grapes, celery, sunflower seeds, pumpkin seeds, chestnuts, lotus roots, bamboo shoots, potatoes, tomatoes, dried noodles of all kinds, dried beans of all kinds, fresh sesame seed candy and candied red crab apples on a stick.
The food in the market is fresh, plentiful and by U.S. standards very cheap. Less than $3 a day can provide several meals for a family of four.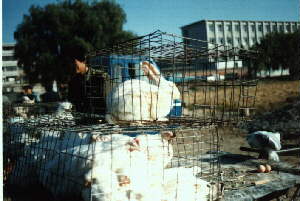 Market vendors also sell a variety of live food: fish of all kinds, turtles, chickens and rabbits.
Plenty of drama takes place at the market, too. One day last fall, a group of thugs stole the day's earnings from a butcher. In turn, the butcher and his friends later killed the thief. The police responded by kicking all the fresh-meat butchers out of the market. In essence, the police punished everyone for the actions of a few.
Meat was still sold at the market, but illegally. The meat vendors were nervous and kept an eye out for the police who might confiscate their wares at any time.
And an old lady sold something you won't see in an American supermarket. She had a basket full of small grasshoppers wrapped in plastic baggies.
"Just take them home," she said, "and stir-fry them with vegetables."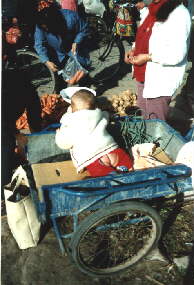 The morning market has a domestic feel to it. Neighbors greet neighbors and gossip about current events and each other. Mothers, much too poor to afford disposable diapers, bring along toddlers wearing distinctive open-crotch pants, "kai dang ku," which eliminates the need for diapers altogether.
The market is crowded, there's food for all in this corner of China's capital city. It's hard to believe that 30 million people starved to death in this country between 1958 and 1962 when the still-beloved Mao was tinkering with the rural economy. At least now, socialism with Chinese characteristics is putting food on the table.