---
James Herriot, best vet in world, lives again in new book
April 7, 1996
Elisabeth Sherwin -- gizmo@ dcn.davis.ca.us
---
"All Things Herriot: James Herriot and His Peaceable Kingdom" (Syracuse University Press, 1995) by Sanford Sternlicht is a book that will please those who have read and loved the stories written by the world's most famous veterinarian.
Sternlicht, a professor of English at Syracuse University, has provided a scholarly but readable overview of Herriot's five main works, his picture book on Yorkshire, his best-of collections and his juvenile works.
In the course of his overview, Sternlicht has added details about this ordinary man's extraordinary life, a life devoted to traditional family values. "James Herriot" was the pen name of James Alfred Wight, a modest man who worked hard, married the woman he loved, had two children, and served his country during World War II.
Wight also is a wonderful example of a writer who began a second career relatively late in life. He began writing when he was 50, at his wife's insistence, and suffered nothing but rejection from publishing houses for the next four years.
"There's a special noise that a rejected manuscript makes when it comes through the letterbox and it hits the doormat. A sort of sick thud. I got to hate the sound of it," he once said. Later, the sound of royalty checks fluttering through the letterbox must have cheered him.
His first three books, a collection of memoirs about his years as a veterinarian in rural Thirsk, Yorkshire, England, were "All Creatures Great and Small" (1972), "All Things Bright and Beautiful" (1974), and "All Things Wise and Wonderful" (1977). Wight chose the titles from the Anglican hymn "All Things Bright and Beautiful" by Mrs. Cecil Frances Alexander.
The first three books became the basis for a BBC TV series that began in 1978 starring Christopher Timothy at Herriot. Then came "The Lord God Made Them All" in 1981. This was assumed to be his last memoir, but Wight surprised and delighted his public by releasing "Every Living Thing" in 1992. This title was taken from the Old Testament.
"Nothing important has ever happened to me," Wight once said. "My life is merely the framework for a series of animal incidents."
These incidents, however, touched readers worldwide. As Sternlicht says, "The essential drama of the Herriot memoirs is the symbolic reenactment of the physician's combat with death."
Here's one example of the humanistic Herriot at work, dealing with an elderly widow and her pet bird: "Mrs. Tompkins is frail, poorly sighted and over 80. Her sole company is a silent budgie named Peter, whose beak needs clipping because the 'poor little fellar can hardly eat with 'is long beak and I'm worried about him.'
"When Herriot slowly reaches into the cage, the terrified bird dies in his hand. Stricken with guilt and dismay, the compassionate Herriot, under the pretext of needing to take Peter to the surgery to do the clipping properly, scurries off with the tiny corpse to find a similar-looking live bird. He does so and brings off the kind deception, although the widow later comments: 'You know, you wouldn't believe it ... He's like a different bird ... chattering to me all day long. It's wonderful wat cuttin' the beak can do."
Sternlicht, a scholar-writer-theater director, trained as an actor before leaving professional theater for an academic life. He was born in New York City and now lives in Syracuse.
"I worked at the University of York in the 1960s, fell in love with Yorkshire, and now return often to visit with friends. On a 1970 visit I heard about a veterinarian who writes, and when 'All Creatures Great and Small' was published I immediately bought a copy and kept up with the author's life and work until his death.... I continue to study the Herriot legend and its impact on popular culture."
Sternlicht says his book is the first on Herriot because the British, unlike the Americans, "are a bit snobbish about popular culture figures and phenomena. American scholars and critics are very interested in the dynamics and synergies of popular culture. More tolerant Americans have found literary merit as well as great pleasure in the Herriot memoirs and have embraced the TV adaptations.
"I am regularly asked to lecture on Herriot...and consider myself an expert on him," said Sternlicht.
He added: "James Alfred Wight died of prostate cancer at his home on Feb. 23, 1995. James Herriot lives on."
For more veterinary topics and information just click on the "Llama's Mama" icon to get to "Pets, Vets, You and Dr. Sue."
---
[Author Menu] [Date Menu] [Genre Menu] [Printed Matter Home]
---

The Davis Virtual Market ||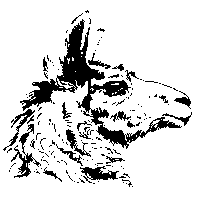 Pet, Vets, You and Dr. Sue