---
'Two Virgins' cover album photo from
"The Beatles"
circa 1968
Presented by Printed Matter on the Web --
gizmo@ dcn.davis.ca.us & yamagata@virtual-markets.net
---
Caption text reprinted from "The Beatles" by Allan Kozinn

In 1968, Lennon and Yolo Ono, soon to be his second wife, declared that they had nothing to hide, and proved it by posing nude for the cover of their controversial "Two Virgins" album, a collection of avante-garde collages. Banned in many places, it was sold in a brown paper sleeve.
Warning: viewing this photo is unlawful, restricted, or banned in many countries or communities around the world and where this photo is subject to censorship as offensive material.
---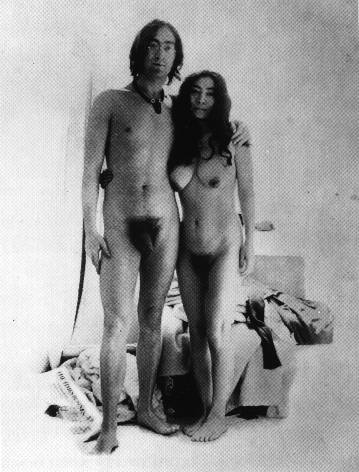 WARNING: For viewing only by those that are not offended by the natural human form and for viewing in communities of the world where freedom of speech and expression are permitted.

"Two Virgins"
From "20th Century Composers: The Beatles"
Book by Allan Kozinn;
Series edited by Norman Lebrecht.
Published by
Phaidon Press Limited
1995/240 pp/$20
Elisabeth Sherwin's
review can be found in
'The Beatles' reminds fans:
They were great musicians,"
the March 24, 1996,
PRINTED MATTER column.
---
[Author Menu] [Date Menu] [Genre Menu] [Printed Matter Home]
---

The Davis Virtual Market