How have you spent your winter/spring confinement?
July 5, 2020
Elisabeth Sherwin -- ensherwin@gmail dot com
Columnist

---

From the trivial to the meaningful, here are a few of the ways I spent my days early in the Great Pandemic of 2020.

[Click on all Photos for larger images.]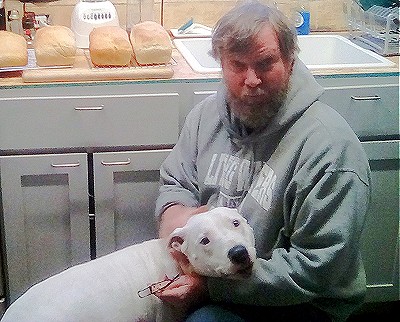 1. Worried? Yes, of course, but not about catching the virus. My partner and I worried about food and other shortages. We have a lot of storage space in our unfinished bunk house on the back of our property. This became a storage shed in short order. Thankfully, the bear that has been out and about this spring has not discovered it and the one-pound jar of turmeric my partner ordered has not been disturbed. We also have a lot of dried beans and rice, organic non-grain snacks for the dog and extra cases of cat food.

2. I predict that the Etsy market will be flooded with quilts this summer and fall. I made a lap quilt out of blue and white toile fabric but was not happy with the results. I love fabrics, colors and designs but I can't seem to make a quilt that doesn't look like the work of a clumsy beginner. Fortunately, I have a friend with a quilting machine who is willing to take my pieces and turn them into beautiful, durable quilts. My advice: Find that friend in your neighborhood.

3. Scrabble. You either love it or hate it. I love on-line Scrabble where I play against the computer. That eliminates yelling and shouting at a live person and having that person yell at me. So far, after 362 games, I have a 93 percent victory rate and climbing. I should have a better stat but I got off to a bit of a slow start, not realizing that although the computer is much faster than I am, and frequently comes up with better words, it has no sense of strategy. I do. Yes, I should move to the next level of difficulty but I don't want to lose.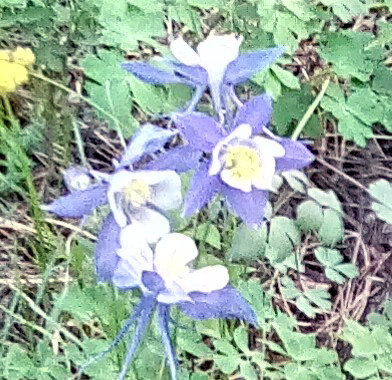 4. I had a feeling that a period of enforced shut-down would be a good time to attend to tasks. We bought several gallons of paint for outside projects and I even painted trim inside. It seemed like a very long winter so when spring finally arrived I bought four baskets of flowering plants and have two more on order. We also bought lots of wildflower seeds, brought in a truckload of manure, set up an irrigation system out of our creek, and are crossing our fingers. It is very hard to get anything to grow in this rocky soil but on the other hand it was a bumper year for wild pasque flowers, the earliest sign of spring. [ More flower pictures ]

5. Reading. Well, this is a tough one. You would think that I would just curl up in a comfy chair and spend all my time reading the books I have downloaded on my tablet. I have, like many people, more books than I can possibly ever finish. But the truth is I just don't read as much as I used to. My eyes seem to get tired much more easily these days. And I'm also less patient with books that fail to grip me immediately. Even old friends sometimes fail to please. One of my favorite books of an earlier era was "Arch of Triumph" by Erich Maria Remarque. First published in 1945, this novel about refugees in Paris before World War II captivated me. The German surgeon hiding in Paris and working illegally seemed a wonderful character. But upon rereading this book, I was put off and dismayed by the constant use of the pronoun "one" as in "one could turn the nights into days," "one could get drunk...night after night." It seems clunky and pretentious to me now.

6. Audiotapes to the rescue. I have a delightful selection of what we used to call "books on tape," including classics like "Gone With the Wind," "To Kill a Mockingbird" and the "Game of Thrones" series. I even found a tape of John Cheever reading his famous short story "The Swimmer." I started listening to audiotapes on plane trips but found that it's a great way to escape right here at home. After returning from a trip to Paris, I listened to Ross King's "Mad Enchantment" about Claude Monet's life and times. That made a later trip to the Monet exhibit at the Denver Art Museum in December 2019 all the more meaningful.

7. A change of scene. I re-arranged the furniture in the guest room/sewing room/computer room. Actually, the room is rather small so all I could do was reposition the bed. But for a short while, until I got used to it, this made a huge difference. I felt like I had a new room.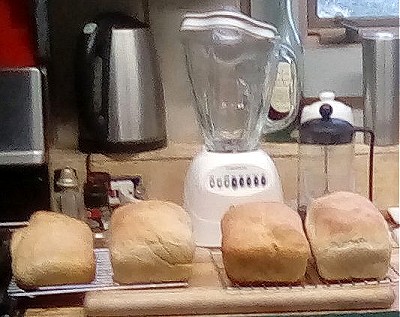 8. Baking bread. I don't do this, but my partner does. If you buy organic milk, which stays fresh for weeks, and you make your own bread, you can cut back on shopping trips easily. Plus, the home- made bread tastes wonderful.

9. I went to my favorite thrift shop on a Saturday in March. The thrift shop was closing at noon that day and I only had a few minutes. I quickly purchased about a dozen greeting cards. The shop still hasn't re-opened (and this is June). So the last thing I bought turned out to be perfect. This is the time to stay in touch with family and friends.

10. The best theater in San Francisco is The Marsh, which specializes in solo shows. The Marsh has gone on-line and the compelling shows by people like John Fisher, Wayne Harris and Marga Gomez represent gay, black and Hispanic lives. And the performances are free.

11. I found a recipe for a great dessert, pavlova, and made it. It was perfection. A meringue crust, soft interior. The meringue is covered with whipped cream and fresh fruit. It is both decadent and healthy and makes a superb presentation. If you would like a copy of the recipe, just let me know.

12. I also go to Zoom 12-step meetings, which are readily available. I've been to meetings in Allenspark, Longmont, Estes Park...and London.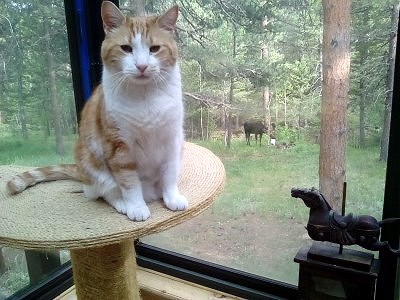 13. The other evening, when it was still light out, a young moose bounded up the slope from the creek to our house and trotted into the woods. That was fun but not that unusual. We have deer, moose and elk in the neighborhood. But an hour later a brown bear appeared also in the back yard. I think he was interested in the turmeric we have in the bunk house. Liz-the-dog could see the bear from the sun room and set up a howl that made him turn and run. [ More Moose Photos with close up surprise ]

14. Watching the news takes courage. Changing the system takes money. So we are contributing to politicians and nonprofits that share our principles. I do think silence is complicity. Just Look up anti racism resources for white people online. Or check out the link below it may or may not work: https://docs.google.com/document/u/0/d/1BRlF2_zhNe86SGgHa6-VlBO-QgirITwCTugSfKie5Fs/mobilebasic

-- Reach Elisabeth Sherwin at ensherwin@gmail.com

For More Information, Visit These Links: