Greece: Visiting old friends in a new setting
November 27, 2019
Elisabeth Sherwin -- ensherwin@gmail dot com
Columnist

---
Click on the photos to enlarge them.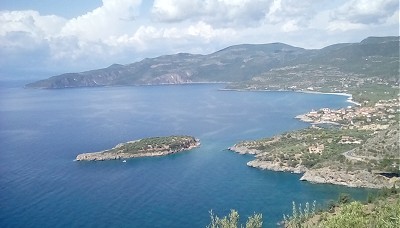 We spent a month in Greece, mid-September to mid-October of 2019, and it was the perfect time to go. And we were on a mission. We were going to a beach town, Kardamyli, southwest of Athens, and easily accessible on a new highway that took us from Athens to Kalamata, a major city, and then on a windy mountain road to Kardamyli.

The scenery is spectacular -- beautiful Mediterranean on one side, mountains on the other. I have written about my unhappiness with the litter (why spoil such a gorgeous country?) and the heartache I felt at seeing all the feral cats (Cat people: You know what I mean) but no one can deny that the country lives up to its postcard-perfect image.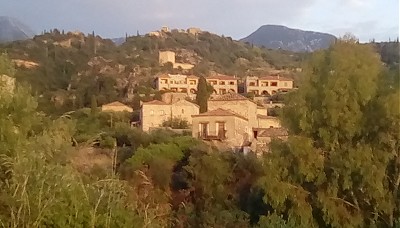 And the little town of Kardamyli itself comes out of a picture book. One main street runs the length of the town -- and continues down the Mani Peninsula -- but that street offers everything a traveler, resident or sightseer could want. More little streets run down to the ocean front. Myriad seaside restaurants are available to choose from and it seemed like every little house offered a "room to rent" sign.

We opted for an apartment -- the top floor of a three-story private house -- so we could have a kitchen and outdoor seating for meals. We came to Greece and this little town in part for a reunion of British boarding school students from way back in the day. That was the mission -- reconnect.

Anne Pearson, a former actor who moved to Greece 20 years ago, organized the get-together. She lives in a hillside apartment with a view to die for. Or as she liked to put it: "This is much better than a bed-sit in London."

Then came me and Mike. We decided that if we were going to fly to Greece from Denver, we would make it worth our while and stay for a full month.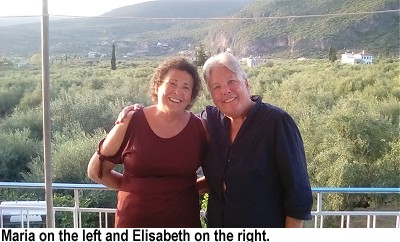 We were immediately joined in the apartment by Maria and Alain Fauquenot from France. Maria and Anne met at Box Hill School in Surrey when they were 11 years old and have been friends ever since. I came to the school a couple of years later.

Then another former pupil joined us -- Jenny Taylor, a retired professor of English, followed by Tim Franke (it was a co-ed boarding school) who lives outside London and is helping to de-commission a nuclear power plant.

We used the bedrooms on floor below us as the guest list variously expanded and contracted.

The last two arrive were Hug and Mary Stephenson. OK, his name is really Hugh and his parents never thought he'd have a nickname but everyone calls him Hug. He also was a Box Hill schooler. He and Mary, a writer, live in a thatched cottage in Devon where he made a living as a carpenter and furniture maker.

Yes, there was a lot of talk about teachers, school outings, and gossip about what happened to other former students, and I have to credit Mike, Alain and Mary for not appearing to be bored at all as their spouses chattered on about things they had no first-hand experience of and perhaps little interest in.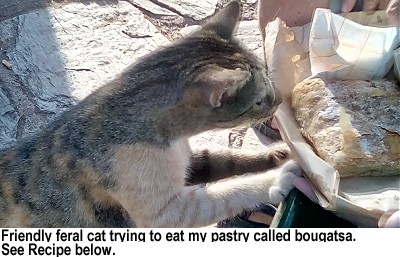 Like most holidays, the time passed much too quickly. We went to the beach, out for dinner, listened to live Greek folk music, fed the feral cats, and found a little restaurant that served great tasting and very cheap gyros.

On two occasions I went to the Greek Orthodox church on the main square for the Sunday service. I could basically follow what was happening but understanding it was something else. The bells rang three times between 8 a.m. and 9 a.m. but it was hard to know when the service actually started. I got there late and most local women came in later still, lit a candle, kissed an icon and proceeded to sit down and pray.


We also hiked up to the Old Town Kardamyli which has been beautifully restored. Gazing out from the ancient towers toward the sea, it was easy to imagine life there hundreds of years ago.

All of us are now retired and this was the first time we congregated for a holiday. Jobs, families, finances and other commitments got in the way. It was a pleasant surprise to find out that most of us were socially liberal and somewhat politically active -- with kudos to Jenny who helps teach immigrants the way of life in Britain. Anne supports efforts on the Mani to aid the feral cats, Mary ran a nonprofit designed to help men in prison, and Maria just can't put up with hypocrisy in government. I say well done.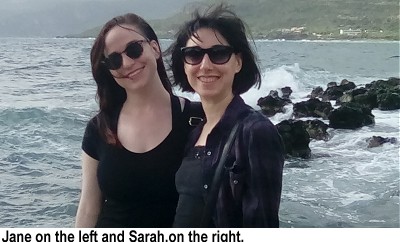 During our last week in Kardamyli, after all our school friends had gone, we had the delightful experience of sharing the apartment with family friends -- two twenty-somethings -- young women we invited from Chicago. Jane Sawyer and Sarah Barron, both erstwhile ballet dancers, are now connected with the Cook County Arts Collective, which brings dance performances to the formerly incarcerated. They seemed to love Greece as much we loved them.

And so the question is asked: When are we going to do this again? And where?



-- Reach Elisabeth Sherwin at ensherwin@gmail.com
For More Information, Visit These Links:

Cook County Arts Collective web site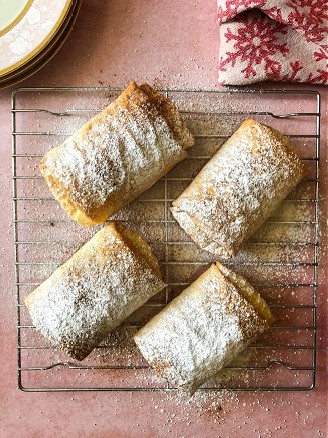 Recipe for Bougatsa
Servings: 15 pieces
Time: 1hr 30mins
Difficulty: moderate
Ingredients
1/4 cup melted, unsalted butter (meaning, you should end up with 1/4 cup after it is melted)
1/2 cup granulated sugar
1 liter 2% milk (you can use lactose free milk if you prefer)
1/2 cup fine ground durum wheat semolina
3 large eggs
1/4 teaspoon powdered vanilla
1 pound phyllo (filo) dough
1/3 cup approximately melted butter (for brushing on to phyllo)
Cinnamon for dusting
Approximately 1/2 cup icing sugar, for dusting the top of the bougatsa
Directions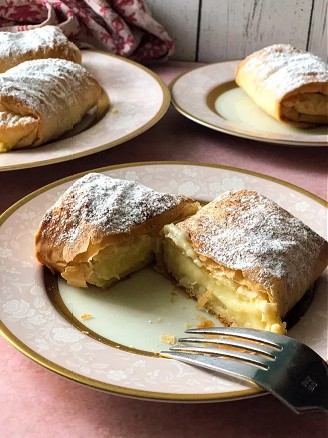 Preheat oven to 350 degrees Fahrenheit
In a large pot, over medium-high heat, combine melted butter and sugar. Mix until combined and then slowly pour in milk. Add semolina and vanilla. Cook for about 5 minutes, stirring regularly.
In a bowl beat together 3 eggs using a fork. Once thoroughly beaten slowly add them to the pot. At this point you must continuously stir the contents of the pot. Continue to cook, stirring continuously, over medium-high heat for about 10 minutes. The custard filling is done when it has the consistency of a pudding. You can get a sense of what it looks like here.
Set the custard aside and begin to prepare the phyllo.
Open up your pack of phyllo and unwrap the sheets. Cut the pile of large phyllo sheets in half so that you are left with rectangular pieces which measure approximately 8 X13 inches.
Lay 3 sheets of phyllo one on top of the other, brushing melted butter between each sheet. As you lay the sheets down, keep the shorter end facing you. Then, place 1/3 cup of custard mixture in the bottom center of your square, leaving approximately 1.5 inches from the edge. Fold that bottom edge of phyllo over the custard and then fold in each of the sides. At this point your custard should be fully covered by phyllo. Flip the phyllo and custard over, using a spatula to help you and brush the top with butter. Next, take the strip of phyllo and fold it over and then under your custard pocket. Brush the top with melted butter. You can watch a video of the process here.
Carefully, using a spatula, transfer to a parchment lined baking sheet. Repeat with the next packet.
Bake in middle of the oven for approximately 20 minutes.
Remove from oven; allow to cool on a baking rack. Dust with cinnamon and powdered sugar.
Enjoy.