---
<!STRONG><!Font size=2> [Author Menu] [Date Menu] [Genre Menu] [Home Page] [Links] [Sponsors]
---
One man can make a difference
October 29, 2004
Elisabeth Sherwin -- gizmo@ dcn.davis.ca.us
Enterprise staff writer
Photos by Koen Van Rompay

---
Fast Facts:
Koen Van Rompay
Sahaya International, Inc.
2949 Portage Bay Ave., Apt.195
Davis, CA 95616
Phone: (530) 756-9074
kkvanrompay@ucdavis.edu
www.sahaya.org


Sahaya International has raised and distributed $283,072 in less than six years to seven different programs in India and Africa.
AIDS, poverty, illiteracy, hunger. Can one person really make a difference? Koen Van Rompay, 39, says he has no choice but to try.
On his first trip to India in 1997, Van Rompay was overwhelmed by the poverty and illness he witnessed first in Chennai (formerly the city of Madras), then in remote villages to the south.
"I was eager to go to India," he said in a recent interview. "I had not been outside Europe or the U.S.A. - it was my first trip to a developing country. I was really shocked to see the poverty. It is hard to describe, especially the children living on the streets begging for money.
"I felt very frustrated, it wasn't right. It wasn't just. But I thought, look, I am a laboratory scientist, not a social worker, not a politician," he said.
A choice to make
Van Rompay was born in Belgium, his name is Flemish. He came to UC Davis 15 years ago to work with other HIV/AIDS researchers. He's familiar with the devastating problems facing the developing world from India to Africa.
"I felt I had to do something," he said. "I could go back to Davis and just close my eyes and try to forget all the poverty and all those poor children, or I could really try to stand up and be a voice for them."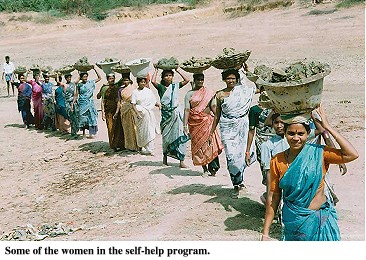 He began modestly by helping an Indian friend and social worker, Durai Selvam, director of a small self-help program in Southern India, sell hand-embroidered greeting cards.
"He sent me 20 cards and I sold them for him and asked for more," said Van Rompay. "The first year we were able to raise $1,000, which here in the U.S. wouldn't be that much but in India I'm amazed at how much you can do with $1,000."
Van Rompay went back to India the following year and went to Selvam's village of Vilandai next to the city of Andimadam six hours south of Chennai in the state of Tamil Nadu. Let's just say it's remote - to the extent that Van Rompay is frequently the first European some villagers have seen.
Van Rompay learned that American dollars go a long way in India where a teacher in a rural school gets by on about 75 cents a day.
The money going to Selvam's project was helping to educate village children and was creating empowering if modest jobs for women. It takes about six months for a young woman in the village, school drop-outs between the ages of 16-20, to learn to embroider the cards.
The women are paid a stipend during the training period, which makes their parents very happy. The girls also are enrolled in other training programs.
"It's amazing how much of a difference you can make," said Van Rompay.
Cards sold locally
The cards are sometimes sold at the Davis Farmers' Market and at University Retirement Community. They will be sold the weekend of Nov. 13-14 at the St. James Holiday Bazaar at the memorial center, 1275 B St. in Davis.
Selvam's village is in a remote rural area but it now has a computer and Internet connection -- courtesy of Van Rompay -- to make their work easier.
"We communicate almost on a daily basis," said Van Rompay.
Van Rompay quickly learned that he's skilled at putting together people he knows with people who need help.
"So I decided to go one level higher and created in 1999 a non-profit organization called Sayaha International," said Van Rompay. Sahaya is Sandskrit for "help." You can read all about it at www.sahaya.org
Van Rompay says Sayaha International, headquartered out of his apartment on Portage Bay Avenue in Davis, has been able to raise $10,000 to $20,000 a year mainly by selling the embroidered cards. His Sahaya sales network includes 10 to 15 people in Davis who sell cards plus his family in Belgium and friends in Sweden and England.
"I spend my evenings and weekends working for Sahaya," he said. He admits being a little surprised at the turn his life has taken, considering that he has no training in sales, grant-writing, or in lecturing schoolchildren on AIDS.
When you talk to Van Rompay, he may begin by telling you about the success of the greeting card project, but that will lead to a discussion of the orphan AIDS project he's organized (a half-dozen people in Davis send $30 a month to Selvam's village to feed and educate an AIDS orphan) and that will segue into the latest news on the pediatric AIDS clinic he's supporting.
$283,000 raised
All told, Sahaya International has raised and distributed $283,072 in less than six years to seven different programs in India and Africa.

Guy and Akemi Turner met Van Rompay through the St. James Gospel Justice Committee, which supports many Sahaya projects.

"Koen learned early on how to put the ripple effect in motion," said Guy Turner. "He has a talent for involving other people. The people he talks to talk to other people who involve other people who feel compelled to help.

"One by one we become an army," Turner added.

Turner said no one who contributes to a Sahaya International project need fear that money will be skimmed off the top for administrative purposes.

"It all goes to the places it's needed," he said.
The Tambaram Kids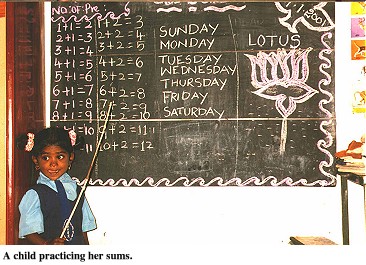 Van Rompay is leaving on Nov. 13 for his annual trip to India. He will visit Selvam and the villages where the cards are embroidered, but he will also go to an AIDS hospital.

His suitcases will be stuffed with toys and clothing for children in the pediatric AIDS ward at the Tambaram Hospital near Chennai.

This is one of the new projects adopted by Sahaya over the past year. Tom Furtwangler of the University of Washington visited the pediatric unit of the clinic last year when he was filming a documentary on a joint program between the Centers for Disease Control and UW.

"He felt sad because he saw so many beds with children with HIV and AIDS and those children had nothing to do except just wait. So when he came back Tom called me to see if he could put together a collaboration with Sahaya International to collect clothes and books for the pediatric ward (go to www.tambaramkids.org)

"Right now thanks to the donations that people have sent us we have been able to hire a social worker who spends eight hours a day in the pediatric ward playing with the children," said Van Rompay.

Many generous Davis citizens have sent things to the Chennai hospital and he has carried many things over in his suitcase. But now he needs help.

He hopes that Indian students or scholars who may be returning home over the winter break will carry extra toys and clothing for him.
Willing travelers needed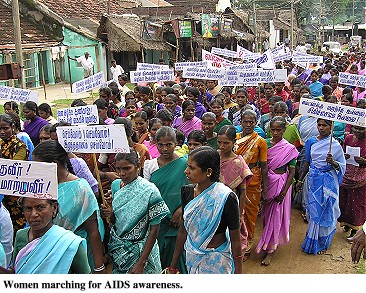 "UC Davis has many students whose origins are from India," he said. "If you have some empty space in your suitcase we can stuff it with some toys, children's books and clothing.

"I would love it if those students could get in touch with me," he said. "That would be of such great help."

Van Rompay's address and phone number are listed on the Sahaya web page (www.sahaya.org) or you can reach him by email at kkvanrompay@primate.ucdavis.edu

When Van Rompay returns to India next month he will not only check on Sahaya programs but he will be pressed into service by his friends to give AIDS lectures.

On his first visits to India, Van Rompay said the people he met in the villages didn't talk about AIDS. He thought they were educated about the problem, as the government claims. He was quite wrong.

Despite government claims the people are well educated, Van Rompay said his village surveys found that only 40 percent had heard of HIV and AIDS and only 20 percent of that number knew about sexual transmission.

"We try to make sure people have awareness of how HIV is transmitted," he said. "They think it's transmitted by shaking hands or by mosquitoes and people who are infected are shunned. We have to help those who are infected," he said.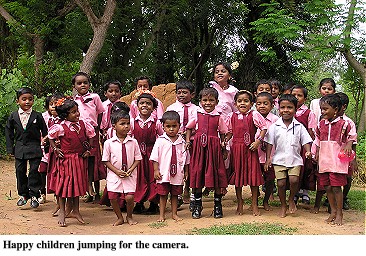 Few people in the villages speak English -- their language is Tamil. Van Rompay's lectures are translated (he also is funding a program to put plain AIDS information in a cartoon format so those who can't read will still get the message).
"The programs we do in the high schools consist of me giving a lecture for 20 minutes," he said. "We spend the next several hours answering questions. The students are very happy to have their questions answered."
If your service group or university club or church would like to hear more about how you can help, contact him.
"I am more than willing to come and talk to you," he said.
Van Rompay said he is balancing his work with Sahaya and his work as a scientific researcher.
"Sometimes if it becomes too overwhelming I just look at my notes and at the photos of the children in India or in Africa and that gives me plenty of energy to continue," he said.
-- Reach Elisabeth Sherwin at gizmo@dcn.org
To inquire about ordering any of the above mentioned books from an independent bookstore,
Bogey's Books at discounted prices [ Click Here ]
---
[Author Menu] [Date Menu] [Genre Menu] [Home Page] [Links] [Sponsors]
---