I may be a minority voice on this, but I like Paris.
When I was there last August, I never met the obnoxious jerk who goes around hassling American tourists. He mocks their accents, abuses their country's politics, and makes malicious jokes about their lack of fashion. He has single-handedly tried to destroy relationships between France and the United States.
Instead, the 10 days I spent in Paris were entirely pleasant. I missed the dreadful heat wave, wasn't surprised by the high prices (they are the same as here), and didn't care that most of the meals I ate in touristy places were only so-so.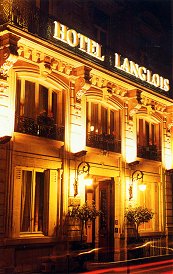 Besides, I loved my hotel, which was small, old-fashioned and friendly. It was exactly what I had envisioned when a Davis resident and French native, Christian Quintin, recommended it to me.
I came to Paris following an intense, fast-paced visit to Ukraine, Georgia and Armenia. By the time I arrived in France, I was tired of traveling. I wanted to crawl between the nice cool sheets on the big bed at Hotel Langlois (www.hotel-langlois.com) and sleep for 12 hours.
Instead, my luggage was lost on the flight from Yerevan, Armenia, to Paris and I had to wear the same outfit for two days. Still, worse things could happen than being forced to buy new clothes in Paris. And I was hopeful that my luggage would be found.
While I don't speak French and therefore wasn't able to talk to many French people, I made plans to connect with several British friends who came to Paris over a holiday weekend.
One of our group, Maria Borobia, married a Frenchman and doesn't seem to regret it at all. She came up to Paris from her home in the south of France and the two of us met up with our three British girlfriends (Anne Pearson, Jenny Taylor, Leila Bischoff) for a full day of talk and gossip, with Paris as an obliging background.
We met at Gare du Nord and indulged in a group hug. The five of us attended Box Hill School -- a co-ed boarding school in Surrey, England -- in 1965 and never thought we'd ever be grown women in our 50s.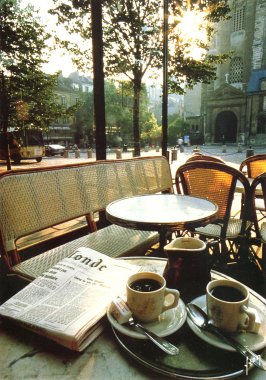 We had a lot to catch up on and so began walking and talking. We walked around Notre Dame, walked along the Seine, browsed the book stalls, walked around the Louvre, walked into the Tuileries gardens and stopped talking long enough to eat lunch - delicious chicken sandwiches on baguettes. We didn't go into Notre Dame or the Louvre, mind you, there wasn't enough time. We only had one day together.
We took a boat ride down the Seine, walked around the Eiffel Tower, and finally had to take the metro back to the Gare du Nord where half our group returned to London via the Eurostar train.
It was a lovely day. It wasn't too hot or too crowded and the Parisians seem to genuinely appreciate the fact that we were there. Waiters were friendly, citizens helped with directions, and we didn't come across any drivers bent on mayhem. One young Parisian even gave up his Metro seat for Maria.
In the days ahead, I'd be able to do the Louvre, take a tour of Notre Dame, drop in on other museums and points of interest. But on this day it was important to visit with my friends. Paris was a beautiful and gracious backdrop.
It was nearly midnight before I got back to my hotel. And there waiting for me was my lost luggage. It marked the end of a very good day.
--Reach Elisabeth Sherwin at gizmo@dcn.org