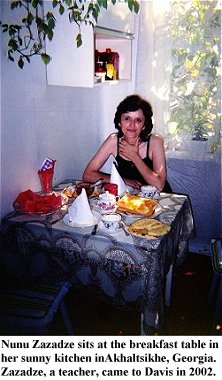 One morning in mid-August, I got up early, packing my suitcase and dressing by candlelight.
I was in the town of Akhaltsikhe, Georgia, where the electricity is turned off from 1 a.m. to 8 a.m. I was visiting two teachers, Nunu Zazadze and Nana Ioseliany, both of whom had come to Davis on a teachers' program early in 2002 and stayed at my house.
Now Nunu and I were gulping coffee and hurrying to get me to the bus station. I loved their small hill town and would have liked to stay longer. It's like a small town in the American West, I thought, with bad roads and modest buildings, surrounded by beautiful hills. It reminded me of towns dotted along river canyons of Colorado.
Friends give us a ride to the bus station where I climbed aboard an already full bus bound for Armenia. Our good-byes are hurried and heartfelt.
Nunu and Nana showed me a wonderful time in the city of Tblisi, Georgia,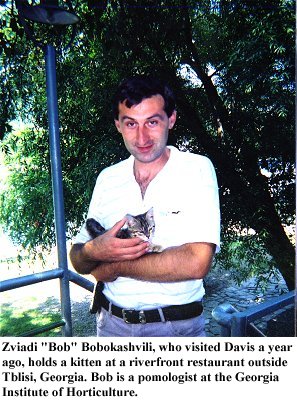 before we took a minibus up to Akhaltsikhe. In Tblisi I also met another former Davis visitor, Zviadi "Bob" Bobokashvili who took time from work at the Institute of Horticulture to show me around the city, including a side-trip to Gori, Josef Stalin's hometown.
Now I was leaving Georgia to visit several Armenian journalists who visited Davis earlier in the year. It was at their farewell party at Café Mediterranee in downtown Davis last March that we hatched the plan for my visit.
"It's easy," they said. "You don't need to take a plane from Georgia. Just take a bus."
So here I was at 7:30 a.m., bouncing along a country road in a bus full of produce and people. After a couple of hours traveling through hilly green countryside, we stopped at a market town. I got off the bus and counted as 26 huge sacks of what I think were potatoes were hauled off, plus several buckets of cherries and bags of sunflower heads the size of large dinner plates.
The woman doing the selling handed me a sunflower head, which I placed on the dashboard for everyone to share.
We bumped along and I saw the ruins of a castle on a hill up ahead. This would be a much publicized tourist attraction in America but here no one paid any attention. At length we come to the border crossing high on a windy plateau that reminds me of Nevada. Only one person is beckoned off the bus for interrogation: me.
As I sat in a little office surrounded by soldiers, I felt like a character in a B movie. The officer in charge looked at my passport, sighed, frowned, asked me questions I couldn't understand. Finally a young soldier spoke up in perfect English: "Your visa is good for one way. You can leave Georgia but you can't come back."
I tell him that I won't be returning this way and my passport is quickly stamped. Back on the bus, I give everyone the thumbs-up, and pass out some American candy, happy not to have caused a long delay. Little do I know that we will have two much longer stops - one for customs, one to cross into Armenia. Other people will be hassled and our communal sunflower head will be taken by a hungry customs officer, but no one official pays any further attention to me.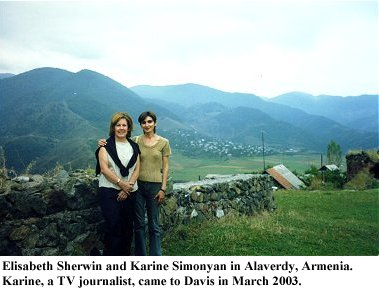 Instead, I have become something of a curiosity on board the bus. In short order, without the benefit of a common language, everyone knows I'm a Californian on my way to meet a TV journalist, Karine Simonyan, in the town of Alaverdy.
It's at this point, about five hours into the trip, the driver tells me that basically I'm on the wrong bus. We're going to the right town, but I can't transfer to Alaverdy from there. Hmmm. This puts a wrinkle in my plans.
For the time being, I can't do anything but look out the window. The scenery is full of surprises. We pass through a village of less than 20 buildings, many of which have stork nests built on roof-top poles. I look around at the other passengers to see if they share my excitement but no one seems to notice the amazing nests.
It's mid-afternoon before we reach our destination. As the passengers leave the bus, they shake my hand and wish me luck. I start to get off, too, but the driver waves me back to my seat.
He navigates his bus through twisty back streets and rutted lanes that lead to the last passenger's home. This passenger is a woman named Angela Abramian who has been on a buying trip to help stock a small store she and her husband own. When we arrive at her tiny house, the bus driver and her husband unload the bus while Angela invites me in to have coffee, watermelon and cookies.
I would be happy to stay in this city for a couple of days and take Angela and her husband out for dinner, but Karine is waiting for me in Alaverdy. Angela leads me to understand that she and her husband will soon be moving into a new apartment complex, which she points out from her window.
Angela connects me with a woman at the local taxi company who speaks English. It will take two hours by taxi (cost: $35), but I will arrive in Alaverdy before the day is out. Angela and I exchange gifts and I get into a taxi driven by a fellow who is a dead ringer for John Belushi. But he doesn't speak English so I can't tell him that he'd be famous in the United States. Instead, our drive through the very lovely and increasingly familiar countryside is punctuated by the repetition of an Armenian pop music tape.
In both Georgia and Armenia I notice that traffic cops have a unique way of issuing citations. They randomly wave cars down with their batons and the drivers obediently pull over. Without discussion, the drivers hand over $1 or $2 and then are free to go. This happened to the taxi driver twice in a matter of minutes before we got out of town.
As we speed through the countryside in the late afternoon, I wonder what the next few days will bring. I'll spend six days in Armenia before flying out of Yerevan, the capital, for a week in Paris.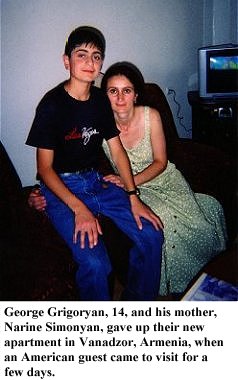 I don't know it yet, but my time in Armenia will be memorable. I will meet Karine's family including her sister and nephew, George, 14, whose hospitality is remarkable. The country has not recovered from the devastating 1988 earthquake and after years of waiting George and his mother have only recently moved into a new flat (just as the Abramians are planning to move into their new apartment). When his aunt and her American friend come to visit, George and his mother will move out to let us stay in the new apartment.
I also will enjoy seeing my friend and fellow journalist Khoren Gasparyan honored for his work as a poet and translator in an evening of music and poetry held at a private home turned into an art institute.
And I will visit a children's art museum in Vanadzor filled with exquisite works of art painted or sculpted by children. In short, I will fall in love with a country.
At 7:30 p.m. the taxi pulled into Alaverdy. I gave patient Karine a hug, saying, "I'm really glad to be here."
And I'll be back.
(--Reach Elisabeth Sherwin at gizmo@dcn.org)